Brush, brush, brush
Dated: 7 Jun 2012
20 Comments
At 16 months, I bought Gwen her first kiddie toothbrush. It's a tad late, because some people advise to start practicing dental hygiene as early as 6 months or as soon as teeth erupt. I wasn't worried at all even if she started late, Jeff, on the other hand, was the one who is always convincing me to start our dental routine. One main reason why I delayed toothbrushing, "Eh paano sya magbabanlaw? Baka inumin nya.." Obviously, I was clueless how to rinse my toddler's milky whites after toothbrushing. So when I got the chance to ask this to our pedia, I was enlightened, "Aaaah, ganun pala…"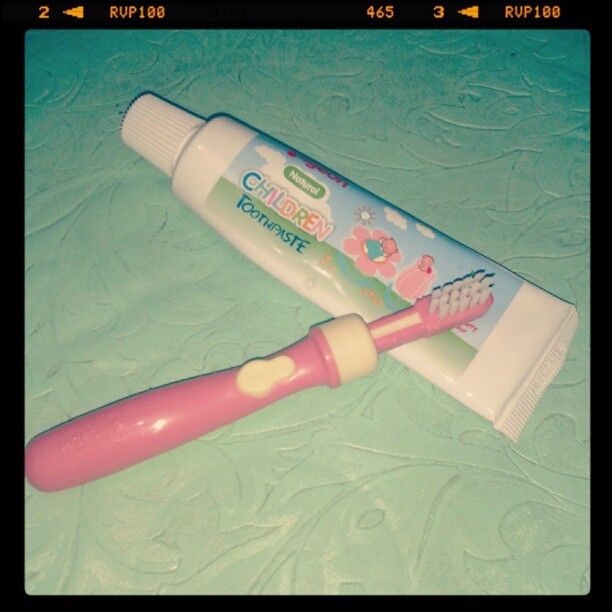 The proper way of brushing the teeth of a toddler:
Smear (very little) the surface of the toothbrush with toothpaste (regular toothpaste will do).
Start brushing your toddler's teeth.
Wet a cloth with water and wipe your toddler's teeth. Do it twice. In our case, I still use distilled water where I dip the cloth.
I bought Pigeon toothbrush and also their kiddie toothpaste in strawberry flavor. I thought it will be too hard to brush Gwen's teeth, but guess what, she's looking forward to it every evening because she EATS the toothpaste. Instead of showing her teeth, she will stick out her tongue, hahaha… I can't blame her though, I also used her toothpaste once and it's yummy and smells good too!
I guess it's a good tip to use great tasting kiddie toothpaste to make your kids get into the habit of tooth brushing. Oh, and also watch the part on Barney's video where all the kids are brushing their teeth. It helps.
What age did your kids started brushing their teeth? Any tips on getting them to brush their teeth?
Tags: dental hygiene, kiddie toothbursh, kiddie toothpaste, Pigeon, toddler teeth, tooth brushing, tooth care, toothbrushing
20 Responses to "Brush, brush, brush"
Leave a Reply